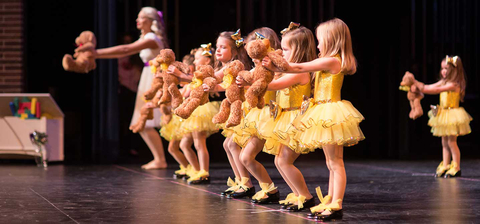 2023 Annual Recital
Each spring, we hold our annual dance recital. It's the grand finale. It's a weekend of fun, excitement and great dance. It's your child's opportunity to perform and share their passion through the steps, turns and choreography they've learned and lived during the year.
Annual Recital
May 20, 2023
1:30 and 5:30 shows
Lights, Camera, Action!
Please refer to your recital packet for logistics related to tickets, attire, hair styles and rehearsals.
Photos

Weston Junker Photography will be available to take individual and group photos of students on April 15 (9am - 12:30pm; 3pm - 6pm) and April 16 (9am - 12:00pm; 1pm - 4pm) at the studio. Please come dressed in your cosutme!

Video

Mr. Video Productions is professionally recording our recital. Order online NOW for a pre-show discount.
Tickets
Tickets are available for purchase online.
Recital T-Shirt
Orders are due by April 24!
Order Today